"Clear Your Clutter with Tapping" is only $97 for the full 15 audios, PLUS receive a FREE 45-minute session with me via Skype. Must be used within 60 days of purchase.
Here's where you can register and purchase "Clear Your Clutter with EFT." There are two ways to buy.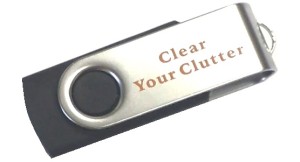 This handy, reusable USB drive has the entire program loaded onto it. Get it on Amazon by clicking the button below.

Or, buy the email version below to have the content delivered to your inbox! Be sure to include your email address in this box:
Got Clutter? What's Tapping Got to Do With It?
Have you got clutter? A little, or a lot? Would you like to be free of it, once and for all, and you just don't know where or how to begin?
Here's what one user had to say about "Clear Your Clutter":
"More than anything, the CYC program has helped me clear the emotional anxiety around "gift giving" and receiving. I've even learned to say "Thank you in advance, for the thought, but please don't get me any STUFF. I'm working hard to clear the clutter and live more simply".  The CYC program works, on many levels! Highly recommended."    Audrey I., Grants Pass, OR
***********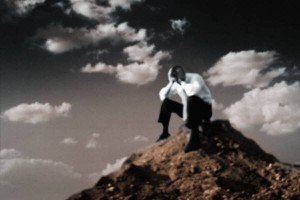 You've heard me talking about EFT for a long time now. EFT (Emotional Freedom Techniques) simply known as "Tapping," is an Energy Psychology method. We tap on energy meridian points on the body to relieve stress and anxiety. Tapping is used for all kinds of "issues." Tapping reduces and eliminates emotional intensity, anxiety and stress. If you have clutter, there are emotions that go along with it. For example: How do you feel if someone drops by unexpectedly? Do you ever waste time looking for your keys? Are you ever stressed because of the mess and clutter in your home or office? Do you ever experience "Monkey Mind?" Clear the emotions, and the clutter will practically clear itself.
Clutter comes in many forms. Physical clutter – like a mess in your house or your garage or on your desk. Physiological clutter – like digestion problems and constipation, and excess weight. Mental clutter – monkey mind, overwhelm, lack of clarity. Social clutter – too many events on your calendar, and an inability to say "no."
If you want to really clear your clutter, you've got to clear the emotions that are behind it. YOU'VE got to do it. If you hire someone to come and clean out your home clutter, it will most likely return. And sooner than you could imagine. That's because external physical clutter is a symptom, usually, of internal clutter and other emotions. But don't despair…getting rid of all your different types of clutter it is easier than you ever imagined.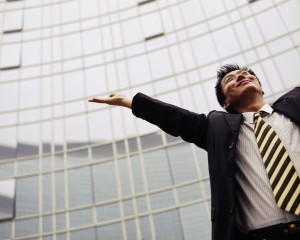 When you purchase this program via email, you'll receive one daily email for 15 days, with a distinct tapping routine in every email. (If you purchase the USB drive, all the Tapping scripts and audios are already on the drive.) The tapping routines will take about 5-7 minutes each to tap along (although you may discover other things to tap on too). In addition, you'll receive practical tips for clearing the different types of clutter, as well as proven resources to support you along the way.
If you've got clutter, and you'd like to clear your resistance to clearing that clutter, and actually get moving on clearing it, my "Clear Your Clutter with EFT" program is for you! This 15-day program will help you determine the root emotional cause of your clutter, and relieve that cause. You'll receive the tools to clear your resistance to clearing whatever kind of clutter you have! Then the program will guide you through daily tapping routines that will help you get moving to make some real changes in the cluttered parts of your life, whether it's stuff, emotions, mind-chatter, weight, or any other kind of clutter. You can use this program over again – each time clearing deeper into your stuff, your emotions, and all your clutter.
Take a look at one client's fantastic results after using the "Clear Your Clutter" program!
BEFORE                                                                                            AFTER
(Welcome & Instructions) Clutter – we've all got it! Let's find some peace!
Day #1 – Clear Your Clutter: Intro & Overwhelm
Day #2 – Clear Your Clutter: Personal Energy
Day #3 – Clear Your Clutter: What is Clutter Costing Me?
Day #4 – Clear Your Clutter: Like Attracts Like
Day #5 – Clear Your Clutter: Blaming Others
Day #6 – Clear Your Clutter: How to Decide What to Keep
Day #7 – Clear Your Clutter: I Might Need This Someday
Day #8 – Clear Your Clutter: Body Clutter
Day #9 – Clear Your Clutter: Social Clutter
Day #10 – Clear Your Clutter: Paperwork and Technology
Day #11 – Clear Your Clutter: Something Special
Day #12 – Clear Your Clutter: Do You Live With Others?
Day #13 – Clear Your Clutter: Living Intentionally
Day #14 – Clear Your Clutter: What to do with All this Stuff
Day #15 – Clear Your Clutter: Fine Tuning and Maintenance
(Short 3 Question Survey) Please Comment on Your Experience