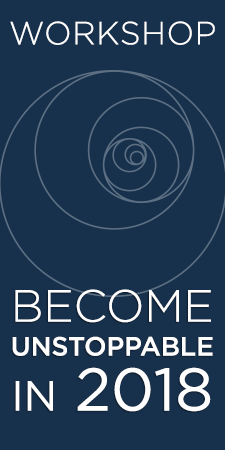 Sunday, Jan. 21st from 9:30 am – 12:00 pm
Become Unstoppable in 2018!
If you are a business owner, entrepreneur, employee of a company, or simply interested in reaching big goals in 2018 – this is the workshop for you. Helen has helped hundreds of people identify and conquer what's holding them back and finally live up to their potential.
Do you have goals and dreams which make you feel frustrated to think about because you don't know how to get there?
Sometimes, it feels like everyone else is killing their goals, while you're still struggling to figure out what to do next. You just can't seem to make the leap from where you are to where you want to be.
If this sounds familiar, you're not alone. Luckily, this workshop will help you identify what's holding you back—whether it's fear, limiting beliefs, or the unconscious mind—and then eliminate those obstacles to reach your goals.
Remember, that you are the only one who has the power to either move forward or hold yourself back.
In this workshop you will learn simple techniques to remove the blocks that are holding you back from achieving your goals and become unstoppable.

Cost: $35 | $15 for Sacred Money Studio Members
Location: Sacred Money Studios | 7814 SW Capitol Highway, Portland, OR