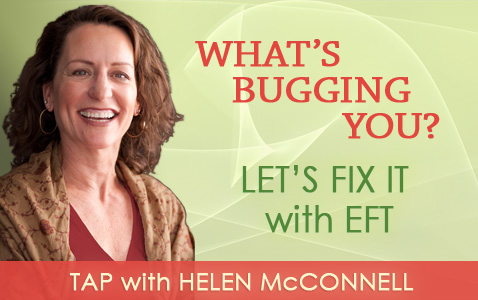 Twice monthly, on EFTRadioOnline, Helen hosts What's Bugging You? Let's Fix It With Tapping. On her show, Helen works with a participant. Helen helps her guest tap on what's bugging them – to clear the symptoms and the deeper issues behind the symptom.
Below is an example episode. Visit the Archives for all of them! Sign up for the RSS feed (on the upper right corner of this and every page) to receive notification when a new episode is posted. 
And if you'd like to be a participant on What's Bugging You?, read the guidelines to see if it is right for you. Then sign up here to tap with Helen on her show. You'll need to confirm your request, so check you inbox for a confirmation email from me!

Guidelines for participation on Helen's radio show:
All participants are volunteers – there is no compensation for appearing on the show.

Shows are pre-recorded, via online mode – all details for this are given to participants, once approved.

By participating

on

the show, you agree to release all rights to the recording for any use – by EFT Radio, BlogTalk Radio, Helen McConnell, and anyone else who is included in the release of episodes.

You must be willing to reveal the nature of "What's Bugging You?" on the recording, and subsequently on the air. You may use an assumed name, and we ask that you not use anyone else's name.

If approved, you will receive an email or phone call to schedule your episode recording. At that time, you may be asked to sign a standard release form, giving us permission to use your voice recording. We will never publish your full name or image as a participant.

At any time before, during, or after the recording process, Helen retains the right to end the session, or to not post the recording.

At any time before or during the recording, you may end the session. Once recorded, you may not cancel the agreement.